Our goal is to create a harmonious communication between parents and school administration. The clear and timely sharing of information between our school and your family is vital! 
There are so many features you'll have instant access to by downloading our school app: 
Instant communication with parents
school and classroom newsletters you can read anywhere
View our school's upcoming event calendar
Quick and easy access to school information
View our school's admission process
Send absent notes through your mobile device
send voice messages to our office
make donations to our school
Helps reduce paper and is environmentally friendly!
__________________________________________________________________________
How to download:
 Click on the following link to be redirected to our school app (it's free!).
If you have an Android Device (Samsung, etc.) http://play.google.com/store/apps/details?id=com.app_strcs.layout
If you have an Apple Device (iphone, ipad, etc.):http://itunes.apple.com/us/app/st-raphael-school/id829028214?=ls=1&mt=8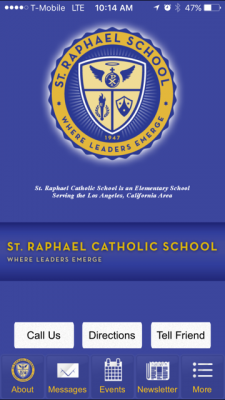 Should you have any questions regarding our school app, don't hesitate to contact us!