The Benefits of Catholic EducationBy Julie Schnieders [Read about it here!]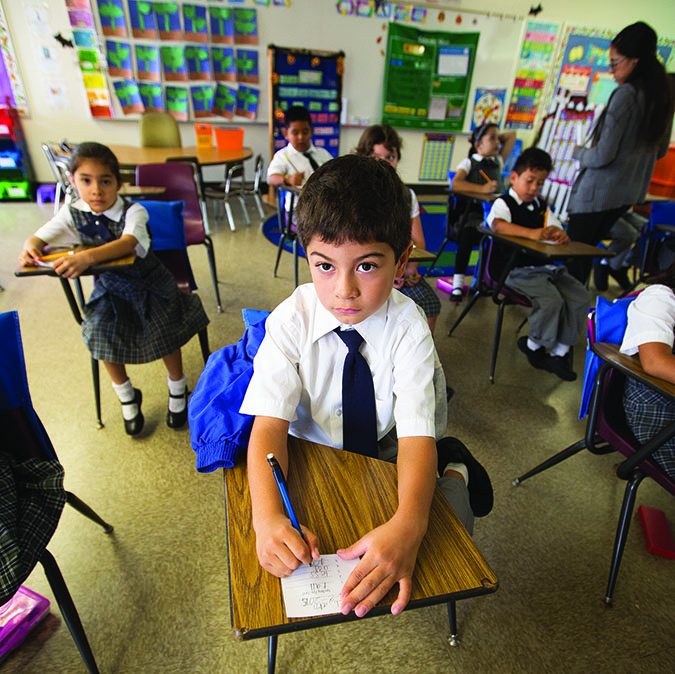 Second graders at St. Paul School in Los Angeles. (photo: Victor Alemán)
Catholic schools across the United States stand as beacons of hope, enriching the lives of multitudes of children and young adults from kindergarten to the collegiate level each year.
Some may ask, why Catholic school, especially when public education is free. But, for many parents, the benefits of a Catholic education far outweigh the cost of tuition.
Catholic schools in the Archdiocese of Los Angeles are hosting open houses this month. Parents interested can check with their local school to learn more. One major plus for parents is that youngsters in parochial schools are taught morality and spirituality at a young age.
"A difficulty of our times is that many children aren't growing up knowing right from wrong," said Sister Mary Catherine Antczak, principal of Santa Teresita Catholic School in Los Angeles. Sister Mary Catherine, a Dominican Sister of Mission San Jose, says the beauty of a Catholic education is that "we have the opportunity to teach our children about Jesus."
The teachers at Santa Teresita emphasize the Gospels to offer moral guidance in a world where morals aren't always the norm anymore. Children in the elementary grades are in their formative years, and Sister Mary Catherine sees this as the right time to provide moral guidance through religious education during the school day.
All teachers are required by the bishops of the California Catholic Conference to attend religious formation workshops and be trained in catechist formation. Educators and parents alike are happy to know that their children are being properly formed spiritually.
"The faith is so important. People who receive a Catholic education tend to give back more to society," said Kevin Baxter, superintendent of Catholic Schools for the Los Angeles Archdiocese.
There are many societal benefits of attending Catholic school. People with a Catholic education tend to be more faith-filled, civically-minded and bring ethics to their chosen profession.
University of Notre Dame sophomore Ben Dalgarn, who attended La Salle High School and St. Philip the Apostle School, both in Pasadena, looks back fondly on his formative years in Catholic school.
"I think that a Catholic education develops the whole person, both the spiritual and intellectual aspects. It has shaped my worldview by making me consider the philosophical groundings of any positions I hold," said Dalgarn.
Dalgarn, who was co-valedictorian at both his parochial and Catholic high school, is active in the Notre Dame community in hall government in his dormitory and on the club volleyball team.
"My Catholic education has allowed me to grow up in a community that supports each other and celebrates service to others," he said.
Community and service go hand-in-hand with a Catholic education. A parish school lends itself to a greater community of faith when families attend Mass together and support their church and school through various ministries.
Sarah Villegas, who is a mother of four, chose to send all her children to Holy Family School in South Pasadena.
"We love being connected to a larger parish and community group," Villegas said.
Villegas likes Catholic schools not only for their community, but for their service to others. Villegas noted that there is a common thread to all Catholic educational institutions, whether the parochial school level or the university level, and that is service.
While Johnny, her youngest son, still attends Holy Family School, she has another son, Chris, at Loyola High School; a daughter, Claire, at Flintridge Sacred Heart in La Cañada; and her oldest daughter, Catherine is at the University of San Diego. All four children have learned to help others through their Catholic educational experiences.
"Service is always a part of everything. It is so ingrained in them that if a neighbor is struggling with their trash cans, they will go out of their way to help them out," Villegas said.
Catholic schools develop the whole person as well as strive to offer an excellent education while preparing students for the future through the use of technology. Many schools now have students do assignments online, use Chromebooks and iPads, and conduct research via the Internet.   
"We provide all of the advantages of technology to advance education and to have teachers integrate it into their lesson plans," said Sister Mary Catherine.     
Lastly, Catholic schools historically have low dropout rates. Most all Catholic school students go on to attend high school and many attend four year colleges.
"When kids want to attend high school, we help them to achieve their goal," said Sister Mary Catherine. "Our students have a great acceptance rate with Catholic high schools."
Article from: http://www.angelusnews.com/news/local/the-benefits-of-catholic-education-9383/#.VoqvVhxLNoU